Stainless Steel McDaniel, NOSHOK, and Valley Industries Gauges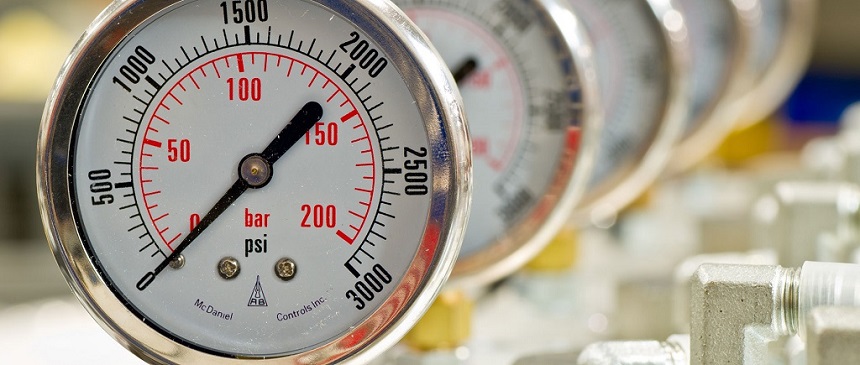 Stainless Steel Gauges from Certified Fluid Power Specialists
Gauges provide valuable information about the amount of pressure generated in mission-critical processes. Your facility relies on equipment gauges to function reliably and provide accurate pressure data. If your gauges fail, you may experience costly and time-consuming delays that crater productivity.
With so much at stake, you must purchase top-quality gauges from a certified fluid power specialist like Wilson Company. At Wilson Company, we are committed to providing our clients with the best products possible, which is why we exclusively sell McDaniel gauges.
For decades, McDaniel gauges have been the gold standard for many applications.
What Are McDaniel Gauges?
McDaniel gauges were released in 1972 and were the first liquid fillable gauge. While McDaniel gauges are now manufactured using modern processes, the time-tested design delivers unparalleled performance and reliability. Organizations in the following industries consistently turn to McDaniel steel gauges:
Food and beverage
Oil and gas
Packaging machinery
Construction and utility vehicles
Power generation
Car wash
Specialized machinery
Transportation
Railroad
Energy management
Agricultural equipment
Pulp and paper
Municipal maintenance equipment
Airport support equipment
Textile and extrusion
Research and development
Defense and security
Automotive
Countless companies in the industries above frequently partner with Wilson Company to acquire their McDaniel gauges and other essential fluid power products.
Types of Stainless Steel Gauges We Offer
Wilson Company offers several categories of stainless steel gauges. These steel gauges are available in many different dial and connection sizes.
We also carry steel gauges capable of handling pressure as high as 10,000 PSI. Our steel gauges are available in multiple cases and mounting styles to ensure that our clients can always find the exact product they need for their intended application.
Benefits of McDaniel Gauges
McDaniel gauges offer several distinct advantages over alternative solutions:
Corrosion Protection
The most talked-about benefit of stainless steel gauges is their corrosion resistance. Corrosion resistance is a priority in industries such as oil and gas, agriculture, research and development, and power generation.
Gauges without corrosion resistance can threaten business continuity in the aforementioned industries by causing equipment failures, decreasing profit margins, and shortening costly equipment lifespan.
Long Service Life
Stainless steel gauges have a longer service life than less durable alternatives. By investing in stainless steel gauges from Wilson Company, businesses can keep all vital equipment operating at peak efficiency.
Resistance to Extreme Temperatures
Stainless steel gauges offer a unique combination of corrosion resistance and the ability to function reliably in extreme temperatures. Less durable gauges cannot withstand prolonged exposure to high temperatures.
If subpar gauges are used in these applications, the chances of equipment failure increase significantly. More importantly, using non-heat-resistant gauges in extreme temperatures can endanger staff.
The stainless steel gauges Wilson Company offers are the only choice when an application involves very high temperatures. These gauges will perform as designed day in and day out.
Why Choose Wilson Company?
If you are searching for a trusted supplier of stainless steel gauges, look no further than Wilson Company. Clients consistently turn to our team because of our:
Family-Owned Status
Wilson Company was founded in 1965 and quickly became known throughout the region as a dependable fluid power distributor.
While Wilson Company has grown significantly in our nearly 60-year history, we remain a family-owned organization. From the top down, every member of the company exhibits the core values instilled by founder and namesake John Wilson.
Currently, Wilson Company has locations throughout Central and Eastern Texas. We also operate within the state of Arkansas. Our six locations include:
San Antonio, TX
Austin, TX
Texarkana, AR
Dallas, TX
Houston, TX
Fort Worth, TX
Each of these facilities includes a fully stocked warehouse so that Wilson Company can effectively serve local businesses within these markets.
Each of these facilities includes a fully stocked warehouse so that Wilson Company can effectively serve local businesses within these markets.
Through the years, Wilson Company and our staff have accumulated an abundance of experience. Our team leverages this experience to help identify the optimal fluid power solutions for each of our valued clients.
Regardless of which industry you operate within, one of our experts can assist you as you select the stainless steel gauges and other products for your fluid power system. We will take the time to understand your needs, challenges, and pain points so that we can provide the best quality of service possible.
Customer-Oriented Business Model
t Wilson Company, we understand that our business would not exist without the ongoing support of our loyal clients. We strive to turn every transaction into a long-standing client relationship.
Once you connect with one of our team members, you will see that Wilson Company provides unmatched customer service and support.
Wilson Company provides McDaniel gauges and sells a variety of other essential equipment. In addition, we can provide design support, technical support, maintenance, and employee training resources. Our goal is to ensure that you get the most out of your fluid power solutions by offering you ongoing support.
Acquire McDaniel Gauges Today
If your business requires stainless steel gauges or other fluid power equipment, Wilson Company is here to help. You can contact us via phone or visit one of our 6 locations to receive face-to-face assistance.
Give us a call and experience the Wilson Company difference for yourself. Once you do business with Wilson Company, you will know what it means to be treated like family.